Brooke Shields squeezes into rubber stockings and a basque for photoshoot
She made her name as an innocent teenager growing up in a not so innocent world of prostitution but Brooke is now all woman as the recent photographs show.   Brooke who is now 43-year-young! wears rubber stockings and a basque and cavorts with a young man Madonna-style for a black-and-white photoshoot for an Australian magazine.  Oh luck girl!
It's a long way from the Blue Lagoon. In that film, she starred in some 30 years ago, she discovered her sexuality – here she's flaunting it big time for the world to see.
In one photo she lies in her underwear beside model Chris Fawcett, while another sees the two locked in a passionate embrace.
There is rumours that there may be a hint of the airbrush about her thin-looking face and heavy eyeliner has been employed, but Shields has retained the looks which made her a star.  For a while in the past she has slid off the a-lister line but she keeps returning.  When it comes to airbrushing she is not the only star such famous women as Kate Winslet have had the treatment!
Sultry: An underwear-clad Brooke strips off as she reclines on a bed and looks like a woman half her age!
To get a similar look like Brooke try What Katie Did
Suspender belt £27.50 in sizes from 10 – 18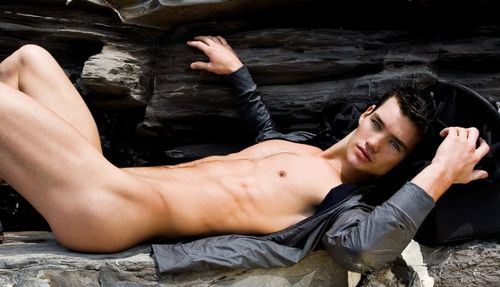 Chris Fawcett letting it all hang out